Recruitment announcement: Genetic modifiers of Duchenne and Becker Muscular Dystrophy
UCLA researchers within the Center for Duchenne Muscular Dystrophy (CDMD) are seeking individuals with Duchenne Muscular Dystrophy to participate in a DNA research study to identify genes and gene variants that may modify the disease process.
All ages may participate. Of high priority, is the recruitment of boys with DMD who require the full time use of a wheelchair prior to age 8, and boys past age 13 still able to walk independently. Individuals affected with Duchenne or Beckers with early onset cardiomyopathy are also of interest. Other people affected by DMD or BMD may be included at the discretion of the study's principal investigator (PI). Please contact Dr. Stanley Nelson.
Participation consists of completion of
a brief one page questionnaire that is emailed to you, and returned by email
blood draw or saliva collected near your home, at UCLA or at your local doctors office
a signed consent form
UCLA researchers will isolate and purify DNA from the blood/saliva and store this DNA with a coded identifier. The whole genome (all genes) will be sequenced to search for genetic variants that may make some DMD individuals more or less severely affected. The stored DNA can be used for future analysis, and data will be shared with other researchers. Contact information will be stored so that updates to your disease course can be provided. The confidentiality of identifiable data is assured and only the PI and his proxys will have access to them.
For more information please contact:
Stanley F. Nelson, MD (Principal Investigator)
Center for Duchenne Muscular Dystrophy
Professor of Human Genetics
David Geffen School of Medicine at UCLA
Los Angeles, CA 90095
Phone: (310) 991-2635
Email: snelson@ucla.edu
Emilie Douine, MS
Center for Duchenne Muscular Dystrophy
David Geffen School of Medicine at UCLA
Los Angeles, CA 90095
Phone: (310) 267-2416
Email: edouine@mednet.ucla.edu
Why Genetic modifiers of Duchenne? A brief explanation.
This study seeks to study the effect of genetics on the progression of Duchenne muscular dystrophy. To accomplish this, we are seeking boys and men with DMD who have unusual progression in terms of ambulation or cardiomyopathy.
Even though the dystrophin gene (DMD) responsible for Duchenne and Becker was identified in 1987, we still have lots of questions about the progression of the disease. From observational studies, we know the major milestones of Duchenne occur in a predictable order: trouble walking, at an early age, transition to fulltime wheelchair around ages 9 to 13 and heart or respiratory troubles in later years.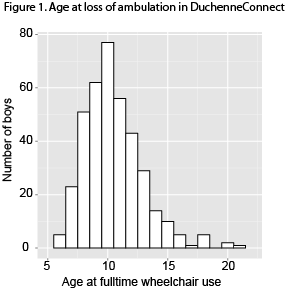 What is surprising to researchers is the wide variability in some of these stages. For instance, the age when a DMD patient begins using a wheelchair full time can vary by more than 10 years! Figure 1 shows this for patients in the DuchenneConnect Registry. This is true even among brothers with Duchenne. Such cases are extreme, but they provide fertile ground for research to find other contributing factors.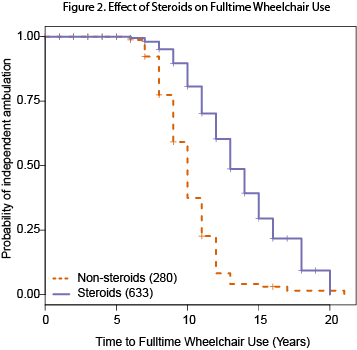 How to account for such a disparity? As many studies have shown, corticosteroid use can account for 2-3 years of delay in walking ability (Figure 2). Environment certainly plays a role. But another aspect is the genetic contribution from one or more of the other 20,000 genes in the human genome. It is known that some genes can affect how well another gene is activated or repressed. Others genes may be able to compensate for the missing dystrophin protein while others yet may worsen the onset of the disease.
Every human has genetic variants spread across their genome. Even identical twins will have a few variants that the other doesn't have! We can capitalize on these individual variants by grouping together, for instance, relatively mildly affected Duchenne individuals. If, as a group, they tend to have lots of variants in particular genes more often than the general population, then we have a clue that this gene may be important. This same idea can be applied to severely affected individuals as well, hopefully giving us an idea of another gene involved in Duchenne.
So how do we define severe or mild? This is a difficult question, but for this project we decided to use age at which Duchenne individuals transition to full time use of a wheelchair. This is also called age at loss of ambulation. We like this measure because it is easily remembered and used by many other researchers.
We also can look at other dimension of Duchenne. For cardiomyopathy, for example, we look at boys with an ejection fraction of less than 55% before the age of 17 (a normal heart's ejection fraction may be between 55% and 70%). This is again, unusual among the general group of patients with DMD.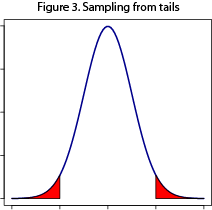 The shape of the plot for age at loss of ambulation (Figure 1) fits very well with a typical bell shaped curve (Figure 3). This is typical of traits under the control of several genes. By focusing on the more extreme tails (the red regions of Figure 3), we are trying to find a smaller number of genes (maybe just one) that contribute a large amount to the trait of interest, age at loss of ambulation in this case. With smaller the number of genes involved, the easier it is to hone in on promising candidates. Crucially, the success of studies like these relies on recruiting enough participants. The larger the study sample, the more power we have to see what genes contribute greatest to disease progression. Once we identify a gene or genes that look promising, we can look for drugs, therapies or strategies that target that gene of interest.
I hope this gives you some insight into our study. Feel free to ask questions and please enroll and pass along to others who might be interested.